McDota Trademark was used in 1978 to operate McDota Fried Chicken restaurants as well as franchised outlets in Malaysia , Singapore, and Indonesia .
Due to heavy investment in staff training, advertising in TV, radio and news papers and promotion campaign, the company was unable to sustain and ceased the business.
McDota Trademark had been much publicized since 1980 for a period of over 20 years. Its trademark goodwill is undoubted sustained for further usage in fast food business.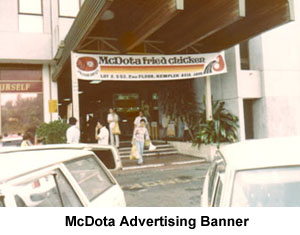 >> Back to top